Your Upcoming Appointment
We look forward to seeing you at Replacements for your appointment with our Purchasing department. Here's some information to help prepare you for your visit.
What to Bring With You
All "Offers to Purchase"** for your merchandise.
A valid driver's license or ID card.
The items you wish to sell.

**An "Offer to Purchase" is a formal offer indicating the prices we can pay for pieces in excellent condition, along with terms and conditions. Remember that your pattern must match the offer in order for the offer to be valid.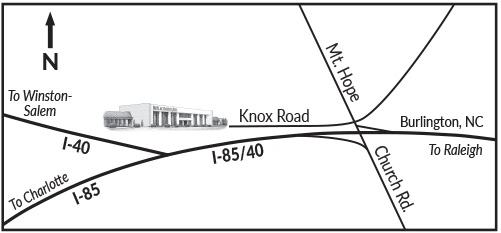 How to Find Us
Detailed directions are on our website at replacements.com.
Once on Knox Road, proceed about 1 mile and turn left at the Replacements sign.

Drive straight up the hill toward our

building.

For help unloading your vehicle, turn left at the top of the hill and park in a 10-minute spot.

Otherwise, turn right at the top of the hill and park in the lot.

Come in through the "Seller Entrance" and sign in at the Purchasing desk.
How the Process Works
We will unpack and inspect the items you've brought. We'll check:

That your items match the Offer(s) to Purchase (brand, pattern, and piece types).
The quality of the items (for example - chips, cracks, scratches, wear, etc.).

We will make you an offer based on the condition of your pieces. Note that we might not be able to buy pieces that are chipped or cracked.
At this point, you can agree to accept the offer, sell us only some of the pieces, or take them all back - your choice.
If you choose to accept our offer in full or in part, we'll print a check for you on the spot.

We will rewrap and return any pieces that we can't buy, or that you choose not to sell.

Ask us about our Gift Card incentive for an extra 20% for your items.
How Much Time to Plan
It depends.  If your pattern(s) and types of pieces (ex. dinner plate, wine glass, teaspoon) match those on the Offer to Purchase, the process goes quickly.  However, if we need to send any of the items to our Research Department for identification, the process could take much longer. This is why we suggest that you don't bring any pieces without an Offer to Purchase from us.
We reserve the right to be the sole judge of the quality of each item and to limit quantities purchased. Please carefully review the Offer to Purchase for further terms and conditions.