Crystal Identification Instructions
Have you tried our Identification Tool?
Our Identification Tool didn't find your crystal-glassware pattern? Let our experts help. Follow these step-by-step instructions and our team of researchers will help you solve the mystery.
Please upload an image of a stemmed piece, preferably a water goblet (the stem often tells us the manufacturer). Photographs, photocopies, or scans are also acceptable if they are of high quality. On occasion, we may need to ask for a clearer image.

Images of crystal are most clear when taken against a dark background in good lighting.

Include height measurement of the piece in inches.

Please also note if you see any manufacturer markings on the foot/base of the glass.

If known, indicate the approximate age.

When making a hand-drawn sketch: for crystal pieces with cuttings or etchings, take a piece of lightweight paper (such as tissue paper used for wrapping gifts) and wrap around the bowl of a water goblet. Using the side of a soft leaded pencil, make a rubbing of the design (per the diagram).
Upload your image(s) using our Pattern Identification Form.
Need help with other products? See our instructions for China, Silver, and Collectibles.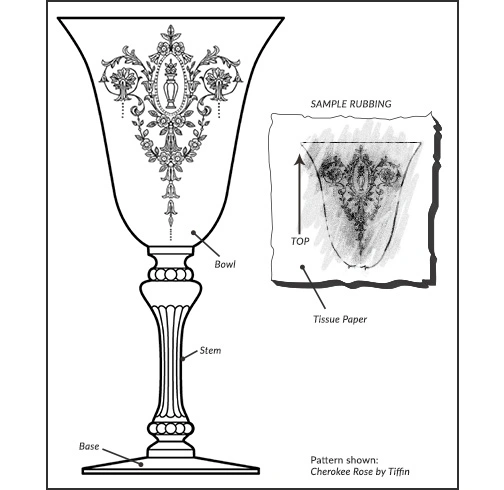 We have two ways to submit your pattern materials to us along with your name, address, email address, and telephone number:
Upload your image(s) using our Pattern Identification Form.
Or via U.S. Mail:
Replacements, Ltd.
Research Department
PO Box 26029
Greensboro, NC 27420
Please allow our research team 3-5 days to respond your request.
If your pattern can be identified, we will create a customer file and add it to your "My Favorites" pattern list. We will also send you a complete pattern listing of the available pieces and their prices. If your pattern cannot be identified, we will notify you.
Identification, Image Usage & Licensing
Replacements, Ltd. gladly makes available to customers and suppliers a service by which product(s) may be identified, free of charge. Additionally, Replacements, Ltd. will evaluate, free of charge, product that is offered for sale. We reserve the right to limit identification of multiple requests to our customers and suppliers. In either case, individuals who so request these services agree to the following terms and conditions related to pictorial images:
Replacements, Ltd. reserves the right, at our sole discretion, to photograph or otherwise produce a pictorial image of any item provided to Replacements, Ltd. for identification, inspection or possible sale. In such case, the owner of such piece shall not receive payment or bear any cost associated with such image production. Replacements, Ltd. shall own all right, title and interest in any such images it produces.
With regard to any pictorial images (of any type or description, including without limitation photographs, drawings and/or digital images) provided to Replacements, Ltd. for identification, the owner grants to Replacements, Ltd., its successors and assigns a non-exclusive, worldwide, paid-up, royalty-free license to reproduce, prepare derivative works, distribute copies, and/or publicly display the image(s).
By submitting any image to Replacements, Ltd., the submitting party agrees that submission does not infringe the right of any third party, including without limitation any third party's copyright, and that such submission is permitted by U.S. law. The submitting party agrees to defend, indemnify, and hold Replacements, Ltd., its shareholders, directors, officers, employees, agents, licensees, sublicensees, successors, and assigns, harmless against all claims, suits, costs, damages, losses, expenses (including court costs, and reasonable attorneys' fees), settlements, and judgments arising out of or related to the submitting party's breach of agreement to these terms or for infringing any third party's rights, including without limitation any third party's copyright.